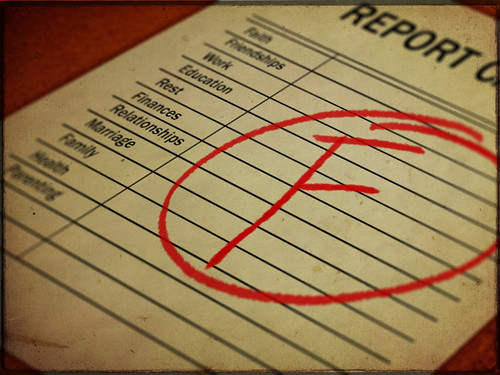 photo by Amboo Who?
Many times I have told my students that music isn't like school.  In math class, you can earn an "A" by getting 90% of the problems correct.  If you only get 90% of the pitches right in music, then it's bad.  If you get 90% of the rhythms correct, it's still bad.  But if you get 90% of the right pitches and 90% of the right rhythms, it's a train wreck!
Here is an excerpt from the Star Spangled Banner.
Download Star Spangled Banner Excerpt


Now, here is the same excerpt with only 2 out of the 25 pitches incorrect.  Yes, I cherry-picked these a bit.
  Download Star Spangled Banner 92% Correct Pitch
Okay.  Let's say your music test includes both rhythm and pitch.  Below is an example that is an all too familiar experience for music teachers.  The pitch and rhythm mistakes happen simultaneously.
Download 92% Correct Pitch and Rhythm


I hope this perfect storm of an example made you laugh.  In a lesson, the same performance is more likely to make you want to pull your hair out or worse.  The next time your students want to argue that you are nit-picking and that they got most of the notes right, let them hear this example.  92% correct in music is most definitely an "F"!